The Greatest Novel Ever Written
No, I'm not talking about War and Peace or Ulysses. And I don't mean The Brother Karamazov.
I'm referring to a novel that towers over them, a novel that changed the very way we think, not to mention the way we think about fiction. You may not recognize it by name anymore because it's recently undergone a name change. It used to be called Remembrance of Things Past. Its new title is . Often it's just called "reading Proust."
This life-changing, mind-expanding seven-volume roman-fleuve ("river-novel") by turn-of-the-century French author Marcel Proust is much, much more than plot and characters, though it definitely has those in spades. It's a whole different way of perceiving life. No one who finishes reading it ever looks the same at time, memory or other people. Is she faithful? Is she cheating? You learn so, so much about these characters, but never know anything for sure.
Proust believes that life is a constant wading through errors of perception, and so is his novel. Again and again the reader sees incorrectly, interprets the action erroneously, comes to the wrong conclusion, because as readers we're trapped inside just one point of view – Marcel's. Characters are not consistent, but a succession of interpretations, often contradictory personalities, never all the selves at the same time. In Proust's 3000-page river of a novel, motives are murky and actions are ambiguous, just as they are in life. Out of the people in his own time and social circle Proust manufactured a mythology of larger-than-life characters who are endlessly intriguing because they're unresolved puzzles, never what they seem, and their social interactions are a labyrinth of misunderstandings.
True, there are those Proustian sentences. You've never read sentences like these before. Okay, some find them annoying. But some of us find them gorgeous. They can be a page long. They're each perfectly-balanced little masterpieces, but sometimes you have to read them twice to understand them. They're worth it.
Which translation should you read? I'm not sure it makes a huge amount of difference. If you're feeling adventuresome, go ahead and try the new translation edited by Prendergast. I haven't tried that one yet.
Otherwise, if I were you I'd read the revised, revised, revised classic translation by C. K. Scott Moncrieff. It's the one you'll find most often in used book stores.
Modern Library has reprinted his version of Proust's seven-book masterpiece in a six-volume paperback series with nice, big print. It's released under the new title, In Search of Lost Time, and features texts that have been corrected and updated and re-corrected. The last three volumes of his masterpiece were printed after Proust's death, and the reconstructed text of the last volume in particular, formerly called The Past Recaptured and now translated as Time Regained (Modern Library, $14.95) has been the most reworked, and deserves to be read in this updated version. Too bad Modern Library gives away one of the epic's most delightful plot surprises in its back-cover blurb. Don't read it. The copywriter should be spanked.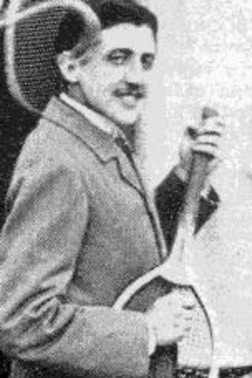 Think about taking on Proust? Buy the first book, Swann's Way (Modern Library, $12.95) and give it a chance. The first half, called "Combray," is like an overture, setting up all the themes of the novel. Most of the second half is a short novel-within-a-novel, Swann in Love, that acts the same way The Hobbit acts to The Lord of the Rings, and sets the stage for the action to follow.
When you've finished that, you'll be ready to approach the true pinnacle of Proustian joy, the second volume, the best of the series, Proust's soaring, light-hearted masterpiece, In the Garden of Young Girls in Flower, translated as Within a Budding Grove (Modern Library, $13.95), a literary experience you'll never forget which brought Proust to the attention of the world, winning the prestigious Prix Goncourt.
Okay, I gotta tell you one little story about this second volume of Proust. In the French prison yard, they would bring out the box of books and the bullies would all push to the front and the runts got what was left. The runt of the runts got the last book – which was the second volume of Proust. It changed his life. His name was Jean Genet.
Finish the second, and you're sunk. You'll have to go on and read every volume, right up to the famous epiphany/revelation that brings the epic to a close, at the elaborate party that ends the seven volumes, the party that quietly blows your mind, fucks you up forever, and forms the structure for Raoul Ruiz's awesome two-and-a-half-hour visual banquet, the best of all the Proust movies, filmed where the story actually happened, Time Regained.
So, here's summer and you were looking for a good long book, right? Start it. Try it. You'll be caught up in the flow, you'll be fascinated, addicted, spellbound, you'll find yourself hopelessly caught up and losing all track of the.. well, you know.
See also: